[General]New Year's Message from NKDB Chairman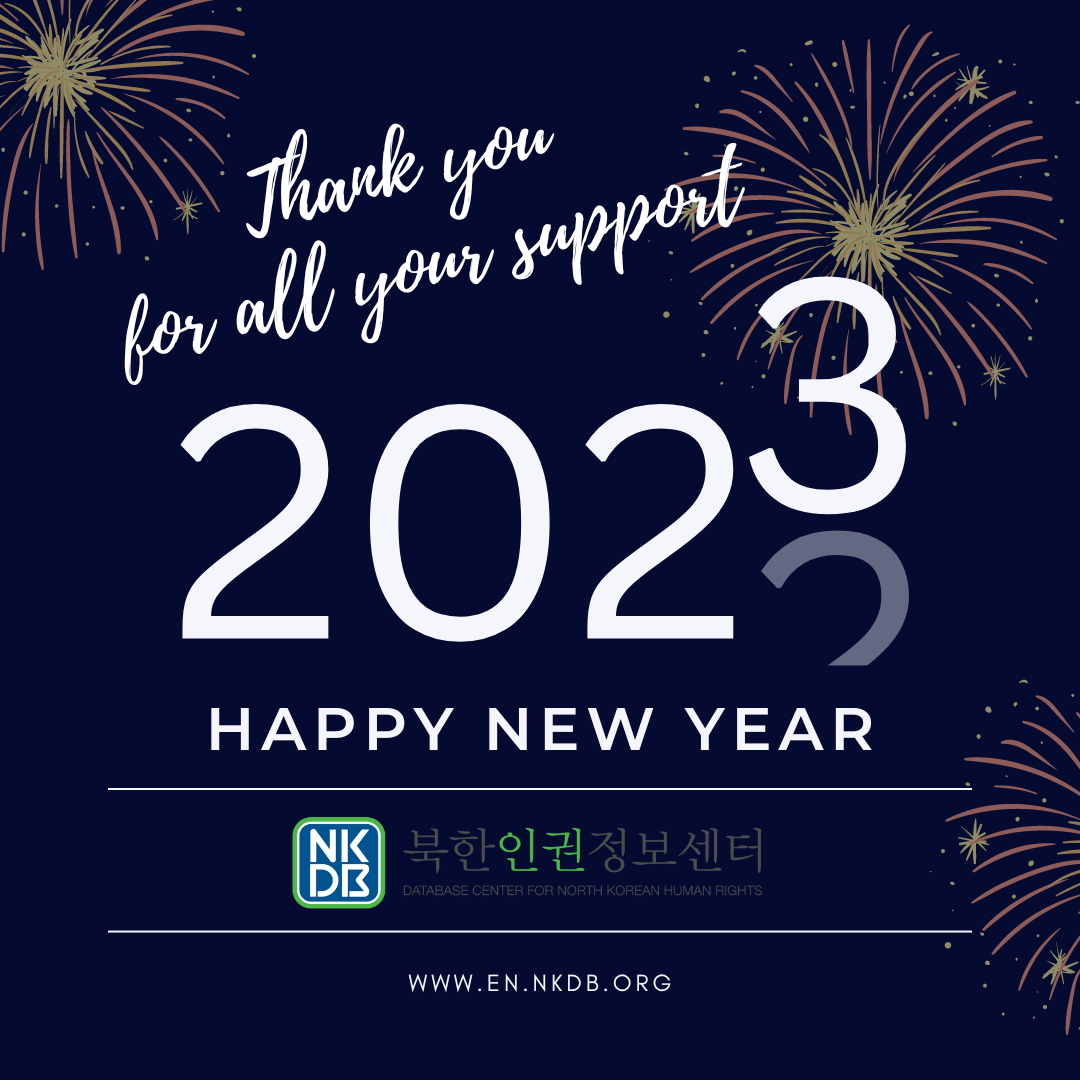 Happy New Year everybody,
We are welcoming the new year full of hope.
In the face of increasingly difficult conditions and environments, I would first like to express my gratitude to all the supporters of the Database Center for North Korean Human Rights, including all of our donors in South Korea and abroad, and all of our colleagues who continue to support our work. I wish you all a happy new year.
2022 was the third year of living with the COVID-19 pandemic, and what a chaotic year it was. We transitioned back to running all our programmes in-person and we also saw a change in administration. However, for NKDB, we unfortunately saw no improvements that would allow us to conduct interviews with newly-arrived North Korean escapees to document cases of human rights violations. As a result, the publication of the White Paper on North Korean Human Rights and the White Paper on Religious Freedom in North Korea, which are the core publications of NKDB, has been suspended since 2020. I can only say that it is NKDB's biggest disappointment of 2022.
However, despite these unfavorable conditions, all of our staff continued to work harder, we continued to document human rights violations from other material and our database has now surpassed over 84,000 cases and 54,000 entries of individuals. My hope is that we will be able to resume our investigations through our access to Hanawon in 2023, so that we will no longer be sitting with this disappointment.
NKDB's Education Center for Korean Integration conducted two cycles of education programs in the Spring and Fall. We were particularly excited to create a new 'Korean Integration Academy' in the second half of the year. We also created three short-course programs- Religion in North Korea Academy, Education in North Korea Academy and the Psychology of North and South Koreans Academy. We are also happy to share that we became registered as a member of the Unification Education Council in September 2022. We look forward to expanding our programs in 2023.
NKDB launched the 'NKDB Human Rights Scholarship Association' in 2021. In 2022, we expanded the scholarship beneficiaries to include not only NKDB staff but also staff in other North Korean human rights NGOs and North Korean escapees. Thank you to Jae-hwa Lee, president of the NKDB Human Rights Scholarship Association, and all the donors that have made the scholarship possible.
We also officially launched the NKDB Center for Human Rights Legal Support in order to provide legal support to those who have experienced human rights violations in North Korea. I would like to express my gratitude to Seung-hyun Yoon, the head of the center, and his colleagues in the Committee.
NKDB has also been operating the Hana Center in western Gyeonggi Province, which supports and assists the smooth resettlement of North Korean escapees. In 2022, Hana Center also moved to a new office to serve as a comfortable shelter and second home for North Korean escapees. I sincerely thank all of our staff who work hard under difficult circumstances.
Also, in 2022, we began to have monthly lunches with our staff through the kind donation of our board members and advisers. Personally, I still find it difficult to recognize our staff as they are always wearing masks, but through our monthly lunch meetings, it was a chance for us to see each other's faces, encourage one another and start the month off on a bright note.
At the end of last year, for the first time in three years, we held an end-of-year party to celebrate the opening of our new office. As I said to all our guests there, 2023 is a special year for NKDB as we celebrate our 20th anniversary. In 2023, we hope that we will be able to embark on a dream we have had for a long time of creating a North Korean Human Rights Museum.
Thank you again for all your support in 2022, and we hope we can rely on you again in 2023.
Wishing you a happy 2023,
Youngho Shin,
Chairman of the Board